I really need one of those fancy schmancy cameras that are tiny and easily transported in one's purse at all times. It seems that every time I leave the house, I see something picture-worthy. Last weekend, I had my camera with me and decided to take advantage of it.
Here is a random smattering of things I saw.
Apparently, the mall is a secret meeting place for the oddly dressed. I didn't get a picture of nearly everyone who deserved to have his or her picture taken--it's so difficult to be discreet when you see something odd and are laughing so hard that you can hardly hold the camera still enough to take the picture.
This young lady was walking around with one butt cheek exposed. And her mother was with her! Who lets their kid out of the house with her butt on display for the world?
Has anyone seen The Simpson's Movie? Does Homer's arm get amputated in the movie?
And here are a few pictures I took during my fishing trip:
I have no idea what kind of plant this is, but it was cool!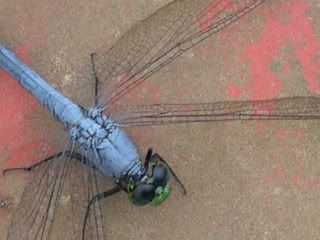 The one "Red Ear" we caught:
In other (completely unrelated) news, guess what
song I heard at the gym the other day
! Ring any bells for my college friends?