BooMama
is hosting a Christmas Tour of Homes.
I've already found some interesting Christmas decorating ideas by looking at other participants' entries.
I don't have anything particularly
creative
going on with my decorations, but I decided to participate anyway. So without further ado, here are some of my faaaaavorite things. If you're participating in the tour, be sure to leave a link to your page in my comments. I want to see your decorations too!
Let's get this out of the way first... You may or may not know that my friend Roz and I have a holiday tradition of driving around town and dissing people's outdoor Christmas lights. It's absolutely uncalled for and we're terrible people for doing it. But there's just SO MUCH material for merry-making out there. You might remember
this particular entry
(complete with pictures of bad decorations).
Well, I put lights in the shrubs outside my house for the first time this year. I fear I have turned into one of those people I've made fun of before, but I did the best I could with what I had to work with. Here's the outside:
Then there's the tree. I started out with an all silver tree a few years ago, but I've been adding more diversity to it in the past few years.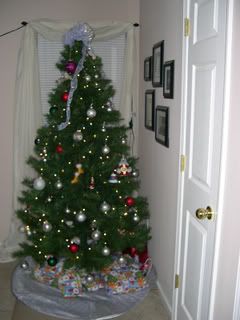 Here's a favorite ornament. The boy made this for me from one of our beach vacation pictures and sand and shells from the beach. Isn't it lovely? I hope he will make me another ornament this year. Wouldn't that be a fun tradition?
(This is NOT a hint. This is a blatant request.)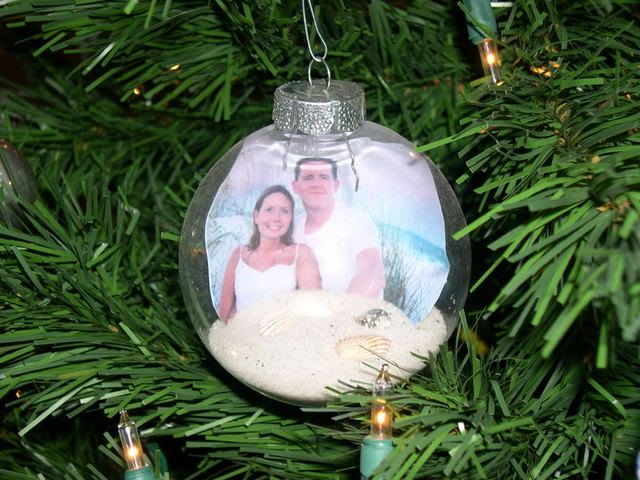 Here's another ornament I like. I actually have a few of these. They're little wooden "ice skates". They're hung on the tree by their little leather laces.
How about one more ornament? Those of you I grew up with will appreciate this one. Nothing like bringing a little nostalgia to the Christmas tree.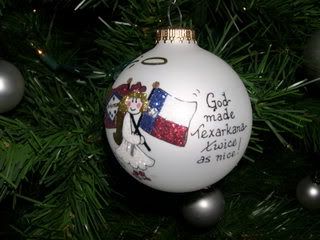 Here's an over all view of the decorations inside the house. When I was growing up, we had a piano that was very similar to the one pictured. We always hung our stockings from it and we displayed our Christmas cards on it. Since I don't have a fireplace, I still hang my stockings from the piano. After all, it's not like I actually
play
piano. Might as well use it for something!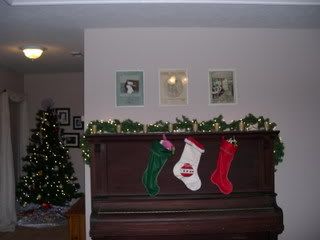 The middle stocking is my stocking from childhood (which explains why one of the little adornments is missing). My great-aunt made it for me and it's survived all these years. The other stockings are for my fur-children.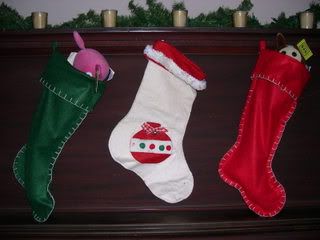 These days, I stick my Christmas cards in this Christmas card holder. I'm not altogether happy with it, though, because it doesn't hold the cards very tightly and sometimes they fall out. But it'll do for now.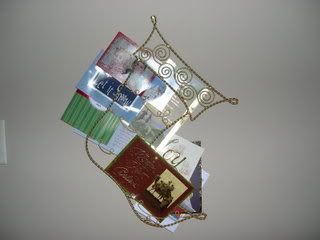 And since I'm not a super-duper-holiday-decorator, that's all I have for you! Thanks for coming by and Merry Christmas!
*Bonus*
For the past couple of years, I've made or eaten (or both!) these cookies during the holidays. They're easy to make and they're so good. I got the recipe out of
this wonderful cookie cook book
--a cookbook so great that my mom got tired of all of us girls borrowing hers and she contacted the publisher and bought a ton of these books to give away. Now back to our scheduled program...this recipe is in the section called "Cookies
Even Jen
Kids Can Make".
Chocolate Chippers
1 c. vegetable shortening
1 c. packed brown sugar
1 c. sugar
2 eggs
1 tsp. vanilla extract
1 1/2 c. all purpose flour
1 tsp. baking soda
1 tsp. salt
2 c. quick or old fashioned oats, uncooked
1 package (6 oz.) mini semi-sweet chocolate pieces
1. Preheat oven to 350. Cream shortening and sugars in a large mixer bowl at medium speed until light and fluffy. Add eggs and vanilla; mix until blended. Beat in flour, baking soda, and salt at low speed until blended. Add oats 1 cup at a time; mix until blended. Stir in chocolate pieces.
2. Drop by level tablespoons 2 inches apart onto ungreased cookie sheets.
3. Bake at 350 for 10 to 12 minutes or until lightly browned. Cool cookies for 2 minutes on cookie sheets. Remove cookies; cool on racks.
4. Store in a covered container.
Yield about 6 dozen.*
*I only got about 3 or 4 dozen. I like bigger cookies.
Enjoy!